Project:

Chesterfield Library

Chesterfield central library was built over 25 years ago and has feature lightweight concrete canopies as an attractive architectural detail over the large windows on the south facing roadside elevation.

After a number of years of being exposed to the weather, these canopies were beginning to show their age and Derbyshire County Council put out a competitive tender enquiry for their refurbishment.

We liaised with Belzona Polymerics Technical support team in relation to which of their specialised repair composites would be most suitable for the refurbishment of these canopies to give a long lasting, low maintenance repair finish that would reinvigorate the canopies original distinctive look.

Our directly employed workforce already has significant experience of concrete repair work and we underwent additional specific training with Belzona on the preparation and application methods for their Magma Build and WG Membrane products.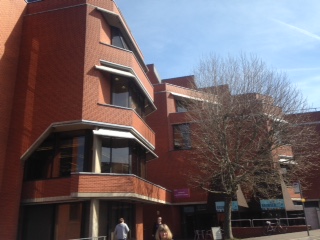 As well as dealing with arresting and reversing the structural decay of the lightweight concrete the job had a number of logistical problems as it fronted onto a busy pedestrian thoroughfare with a large pedestrian arch through the middle of the proposed sit, all of which had to be kept open as work proceeded.
With careful planning of the work and utilising safe access solutions, the repair work was able to proceed during a suitable weather window whilst maintaining the client's stringent requirements to maintain public access along the front of the building and to the library and the central archway.
The job was completed on time and on budget, despite discovering on close inspection that the decay of the canopies was more advanced than anticipated. The completion of this work has restored the front elevation of the building to its former appearance as enjoyed when first built.